Sinusitis affects 37 million Americans annually and although medications may help the majority of people, there are still many that require additional procedures for relief of their symptoms.
What is Balloon Sinuplasty?
Balloon Sinuplasty (BSP) is a safe and effective sinus procedure for chronic sinusitis patients seeking relief from uncomfortable sinus pain symptoms.
Now Available in the ENT Office, Balloon Sinuplasty is:
With Balloon Sinuplasty, there is no cutting of nasal bone or tissue. More than 380,000 patients suffering from chronic sinusitis symptoms have been treated by ear, nose and throat doctors using Balloon Sinuplasty.
In a study tracking patients 2 years following their Balloon Sinuplasty Sinus Surgery in the OR, most chronic sinusitis patients report clinically meaningful improvement in sinus symptoms and quality of life.
While recovery time varies with each patient, recovery is typically fast. In a study of in-office balloon dilation, most patients returned to work and normal activity within 2 days.
Sinus Surgery with Balloon Sinuplasty
Unlike traditional sinus surgery, Balloon Sinuplasty requires no cutting and no removalof bone and tissue.
Balloon Sinuplasty (BSP) uses a small, flexible, balloon catheter to open up blocked sinus passageways and facilitate drainage of the mucus that builds up in patients suffering from chronic sinusitis symptoms.
When the sinus balloon is inflated, it restructures and widens the walls of the sinus passageway while maintaining the integrity of the sinus lining.
Published clinical data in the leading ENT journals shows that it is safe and effective: patients experienced no device-related adverse events and demonstrated statistically and clinically significant improvement in their sinusitis symptoms.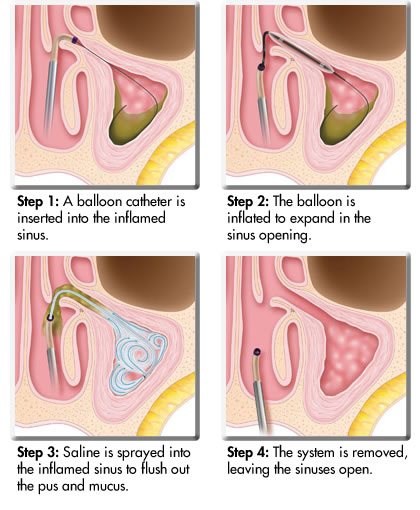 Balloon Sinuplasty In-Office
Balloon Sinuplasty is now available to eligible patients as a procedure performed in your doctor's office, under local anesthesia. Your physician will recommend the best approach for you.
Is Balloon Sinuplasty Right For You?
Please answer a few questions below to see if Balloon Sinuplasty may be the right choice for you. If you appear to be a candidate, we recommend you call our office for a complete assessment.
Do you experience any of the following symptoms? (Check all symptoms you experience):
Has a doctor prescribed sinus medication for you to address your condition(s)?
In the past year, how many weeks have you taken sinus medication for your condition?
Has your doctor referred you to an Ear, Nose & Throat (ENT) specialist?
Have you experienced 4 or more recurrent sinus infections in the past year?
Patient Resources
Whether you have just begun to explore your chronic sinusitis treatment options or are ready to talk to a doctor today, we have put together the following resources with you in mind. We invite you to explore the links below for more information on Balloon Sinuplasty.
You can also request a brochure in the mail, or sign up to receive updates on sinusitis treatment options.
Patient Tools:

Questions to Ask Your Doctor