The Pillar® Procedure is a simple, safe and effective treatment designed to help you stop snoring. In many cases, it also helps individuals suffering from mild to moderate obstructive sleep apnea (OSA).
The Pillar® Procedure stiffens the soft palate, which is believed to be a significant contributor for at least 80% of people who snore. Additionally, using local anesthetic in the office setting, the Pillar® Procedure can be performed in about 20 minutes — so you can quickly be on your way to better sleep.
It is undeniable that snoring interferes with your sleep, your partner's sleep, and intimacy for both of you. If wearing a cumbersome mask to bed for the rest of your life isn't your first choice, then Pillar may be just the answer you've been looking for.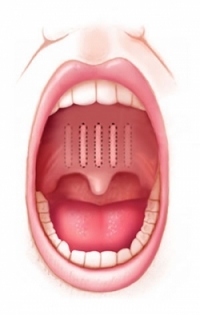 How does the Pillar® Procedure work?
Board Certified otolaryngologists place tiny woven implants into the soft palate using a sterile delivery tool. Over time, the implants, together with the body's natural healing response, add structural support to stiffen the soft palate and reduce the tissue vibration that causes snoring.
In some individuals, the implants also help reduce tissue collapse that obstructs the upper airway and contributes to obstructive sleep apnea.
Why Is Pillar a popular treatment?
By reducing the amount of noise that a patient produces while sleeping, and also improving the airway, thousands of patients have received a multitude of benefits from the pillar procedure. Increased energy, greater intimacy, and decreased embarrassment are just a few of the positive results that we have heard pillar patients describe. Moreover, thousands of patients have seen a significant improvement in their mild to moderate sleep apnea after having the Pillar® Procedure.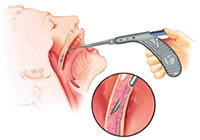 A few, but not all, of the data related to the pillar procedure include:
See a comparison chart for snoring surgeries in the following link:

Download the PDF comparison chart